In order to restore some degree of confidence, the Trust needs to act quickly in six key areas:
Call a halt to the policy of bed closures and reopen wards wherever possible, until community services can actually show in practice that a number of inpatient beds are not needed.
Withdraw the proposal to reduce the number of qualified Band 6 staff in the Crisis Resolution and Home Treatment (CRHT) teams. Continue with the proposed policy of boosting the home treatment capacity by employing more support workers.  Give priority to providing a sufficient level of medical input to CRHTs so that access to a psychiatrist is readily available in a crisis.
Restore link workers and carry out an urgent review of the role of Access and Assessment teams, especially in relation to CRHTs.
Restore Early Intervention In Psychosis (EI) teams in Suffolk, in line with the Department of Health and Schizophrenia Commission recommendations.
Establish a caseload management system so that care coordinators and lead professionals in community teams do not carry individual responsibility for excessive workloads.
Carry out an urgent review of the prevention of suicide strategy, which should include a major rethink around the abolition of specialist assertive outreach and homeless persons' teams.
The Trust board members need to ask themselves why there is such a gulf between their perception of the state of affairs and that of front-line staff and service users. Denying that a problem exists will not bring about a solution. The Trust, the CCGs, Health Minister Norman Lamb, have all been in denial for some time. It's no longer good enough to blame one another. We need decisive action from all. If the NSFT Board cannot provide it, it should go!
If 'parity of esteem' meant anything and mental health had been fairly funded on a par with physical health, NSFT would have an annual budget £30 million greater than it does. This shameful shortfall in funding by the CCGs needs to be urgently addressed.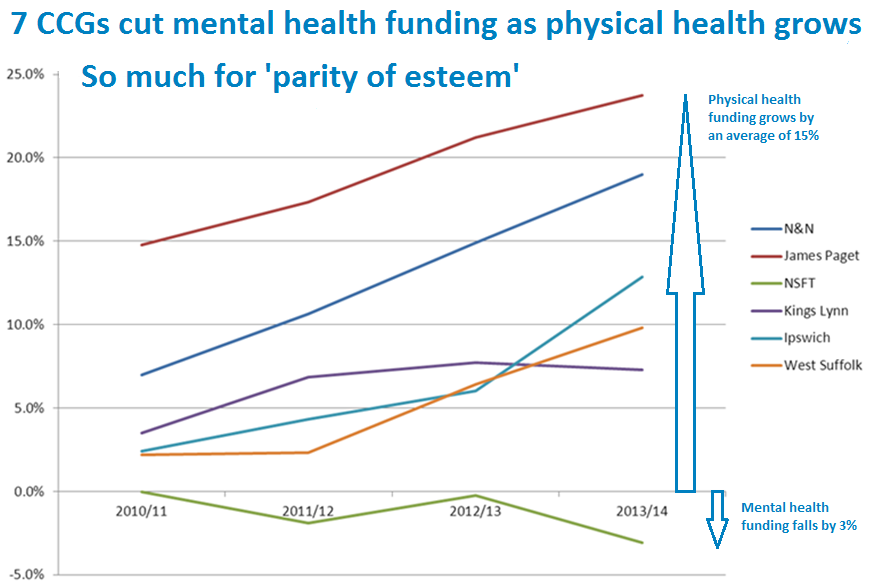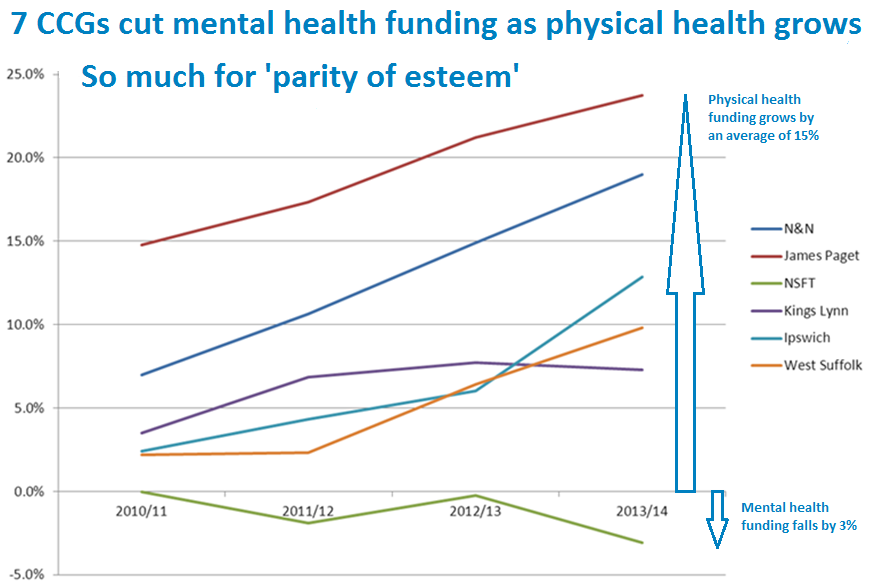 The media can contact our campaigners using:
Mobile: +44 (0)7760 673760
Twitter: @NSFTCrisis
Email: media@NorfolkSuffolkMentalHealthCrisis.org.uk