Andy McNicoll reports:
A man who had expressed suicidal thoughts was failed by two NHS trusts in the days before he was found dead in a river, an investigation by the health service ombudsman has found.

Stephen Foster, 48, was found dead on 23 June 2011. Today, the ombudsman published the findings of an investigation into the care he received in the days before his death. The ombudsman launched the probe after being contacted by Foster's partner, Trezza Azzopardi,  who has accused one of the trusts involved of "arrogant, dismissive and shambolic" behaviour.
Days before his body was found, Foster went to Norfolk and Norwich University Hospitals NHS Foundation Trust with Azzopardi because he was feeling suicidal. He was admitted as an acute patient but was left on the ward for more than 16 hours without adequate support.

When he was eventually assessed by a doctor, Foster was then forced to wait all night to be seen by a crisis team from Norfolk and Suffolk NHS Foundation Trust – the region's mental health provider – despite several phone calls to the team. He was assessed by a mental health nurse from the crisis team at 9am the following morning. He was discharged and told to visit his GP surgery to request counselling. He was found dead three days later. An inquest reached a narrative verdict.
Debbie White, director of operations at Norfolk and Suffolk NHS Foundation Trust, said that "significant investments" had been made to improve psychiatric liaison services since 2011.
Debbie White, Operations Director at Norfolk & Suffolk NHS Foundation Trust (NSFT), is correct to say that some more money is being spent on psychiatric liaison services but that is from an incredibly low starting point: it is not an exaggeration to say that until recently liaison between the acute and mental health trusts in Norfolk was disgraceful, as the trusts and commissioners argued endlessly amongst themselves about who should pay but failed to do anything about delivering a proper service for years and years, doing little more than agreeing to another meeting and choosing between custard cream and chocolate bourbon biscuits.
What Debbie White fails to mention is the 'significant', and far greater 'disinvestment', also known as cuts, in beds, community teams and crisis teams since this tragedy. It is all well and good having a liaison service but if the beds or community services to move them onto are full, what is the point?
The Norfolk & Norwich Hospital psychiatric liaison service is also only available on weekdays between eight a.m. and four p.m. Apparently, psychiatric liaison services aren't needed in the evening or at weekends at the Norfolk & Norwich Hospital. Compare this inadequate provision with the seven days per week, eight a.m. to eleven p.m. service at the Queen Elizabeth Hospital in King's Lynn: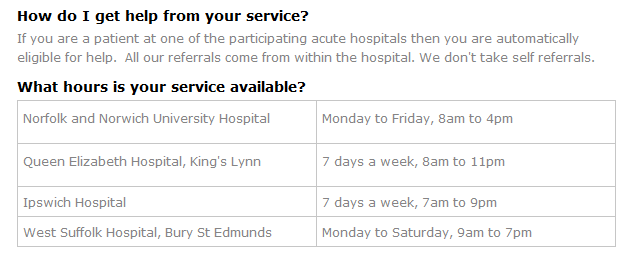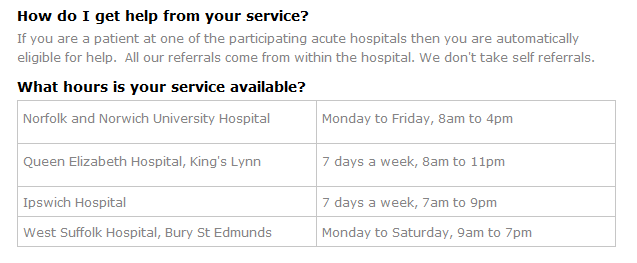 It is worth recalling the case of Christopher James, who suffered from schizophrenia and a drug addiction. Christopher was discharged from the Norfolk & Norwich Hospital on a Saturday after a detox course. The hospital knew that Christopher was homeless and that the addiction service, Norfolk Recovery Partnership (NRP), is closed at weekends. Of course, the NSFT team which looked after homeless people with mental health issues has been closed as part of the 'radical redesign'.
The day after his discharge on October 27, 2013, police were called to the Sugar and Spice, a table dancing club, after a worker saw a body in a loading bay near Prince of Wales Road, Norwich. Christopher James was dead in the street following an overdose but as he was homeless, mentally ill and a drug addict, his death did not attract much sympathy. He was 27 years old.
Click on the image below to read the full story on the Community Care website: