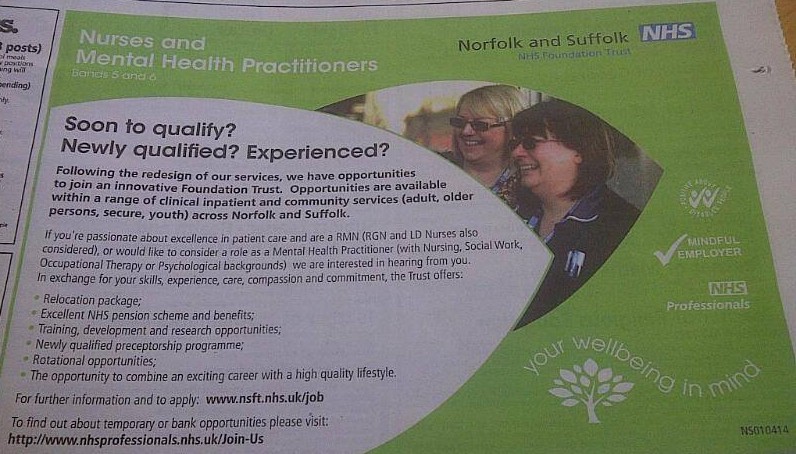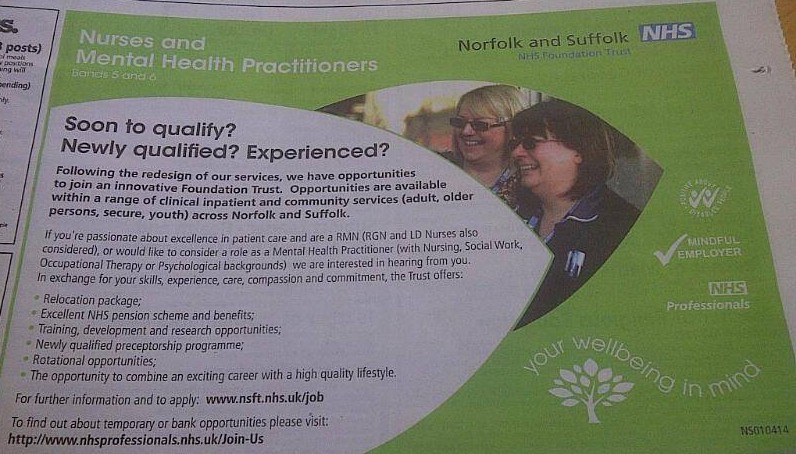 Some staff were paid to leave Norfolk & Suffolk NHS Foundation Trust (NSFT) only last week. NSFT has wasted millions of pounds and put services at risk. What a scandal.
Soon to qualify? Newly qualified? Experienced? Any level of experience…

Staff Nurses and Mental Health Workers/Practitioners All jobs… Temporary or permanent…

Band 5 and Band 6 Other bands available too on request…

Following the redesign of our services, we have opportunities to join an innovative Foundation Trust as we've just spent £7.3 million making our previous staff redundant… Opportunities are available within a range of clinical inpatient and community services (adult, older persons, secure, youth) across Norfolk and Suffolk. All services… All counties… All locations…

If you're passionate about excellence in patient care and are a Registered Mental Health Nurses RMN (RGN and LD Nurses also considered), Social Worker, Occupational Therapist or have a degree in Clinical Psychology, we are interested in hearing from you. Everyone except doctors… though we need them too… In exchange for your skills, experience, care, compassion and commitment, the Trust offers:

• Relocation package; from Ireland and Portugal…


• Excellent NHS pension scheme and benefits; including seemingly random voluntary and compulsory redundancy opportunities…

• Training, development and research opportunities; in how not to run an NHS Trust…

• Newly qualified preceptorship programme;

• Rotational opportunities; reapplying for your own job for less money…

• The opportunity to combine an exciting career with a high quality lifestyle.