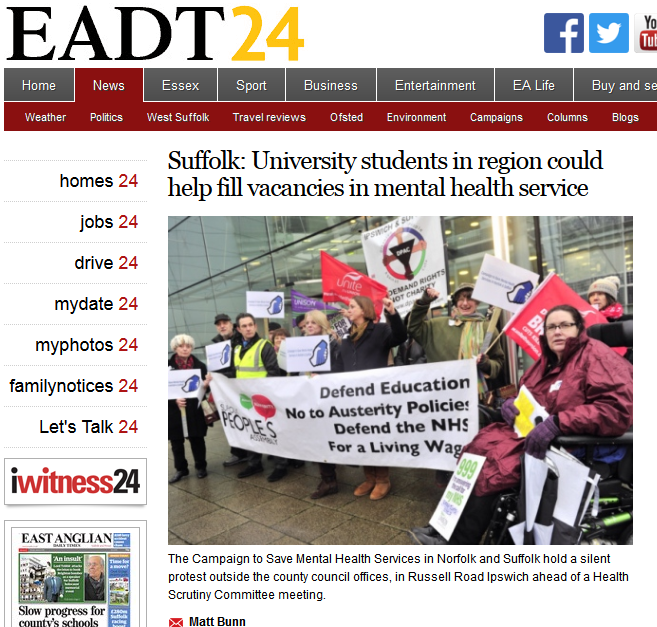 Mental health chiefs in Suffolk will look to university students in the region in a recruitment drive aimed at reducing the high number of vacancies in the service.

The admission came from representatives of the Norfolk and Suffolk NHS Foundation Trust (NSFT) during a meeting of the county council's health scrutiny committee yesterday.

They said £14million was spent on temporary staff in the last year and acknowledged the figure was too high and that it needed to be urgently addressed.

One of the methods mooted was to recruit students from University Campus Suffolk and the University of East Anglia.

Debbie White, director of operations at the trust, said: "We spent far too much on agency staff across Norfolk and Suffolk in the last year and we are very aware that is not efficient.

"It's much better to get staff in the posts which is why we are doing the recruitment drive. We are working closely with UCS and UEA to make sure we get as many newly-qualified staff as possible."
Yesterday's meeting was also attended by supporters of the Campaign to Save Mental Health Services in Norfolk and Suffolk.

The aim of the campaign is to raise concerns about mental health services in the two counties and a silent protest was held by opposition councillors and supporters of the campaign outside Endeavour House before the meeting.

Among the concerns they have raised include the low morale of staff, the out-of-hours service on offer to users, and cuts.

Jane Basham, Labour prospective parliamentary candidate for South Suffolk, helped to organise the protest.

She said: "We want them to see that people are concerned. Generally people have been supportive and I think people are starting to wake up to this and what is happening to public services and they are worried about it."
This is another high-risk proposal from Norfolk & Suffolk NHS Foundation Trust (NSFT). NSFT has wasted £7.3 million on redundancies this year. It is spending £1.5 million per month on temporary staff, desperately advertising in the press in Norfolk and Suffolk and appointing agencies in London.
Look back less than twelve months ago to the article below. The story and the readers' comments are worth revisiting: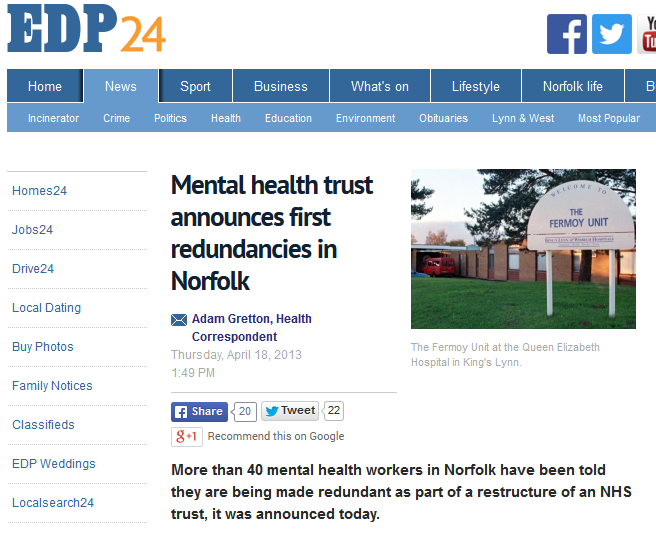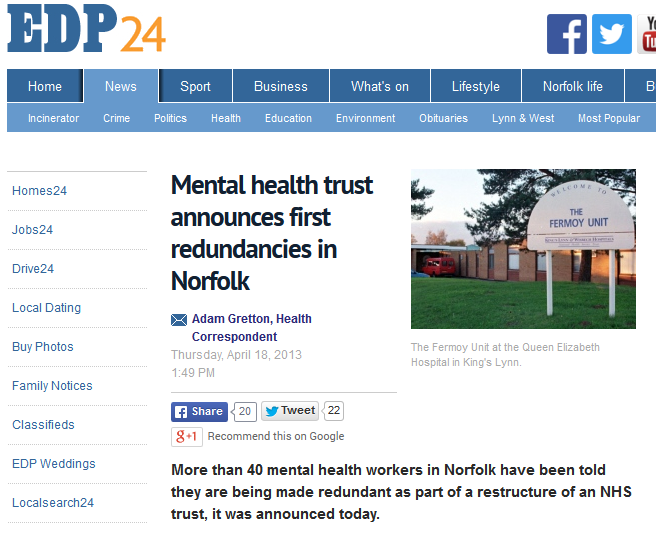 As Gary Page, NSFT Chair has already admitted:
"We acknowledge that a key part of the service strategy we didn't always get right was in relation to workforce planning."
You can read the stories at the newspaper websites by clicking on the images.