The BBC today reported:
The government has incurred a loss of £2.1bn after selling another tranche of shares in Royal Bank of Scotland.

The shares were sold at 271p each, almost half the 502p a share paid in the government's bailout of RBS a decade ago when it rescued the bank at the height of the financial crisis.

The return was "based on the reality of the situation that RBS is now in", said Treasury Economic Secretary John Glen.
Where was Gary Page ten years ago?
December 7, 2007 / 6:07 PM / 10 years ago

RBS names top managers at ABN-boosted bank
Gary Page only lasted as Royal Bank of Scotland's Global Head of Financial Institutions and Portfolio Management until November 2008 when according to press reports at the time, he lost his job, as the bankers' hubris and irresponsibility became clear and the taxpayer was landed with an unbelievably enormous bill.
You wouldn't know this from Gary Page's profile at NSFT which lists his last former employer as ABN. We wonder why.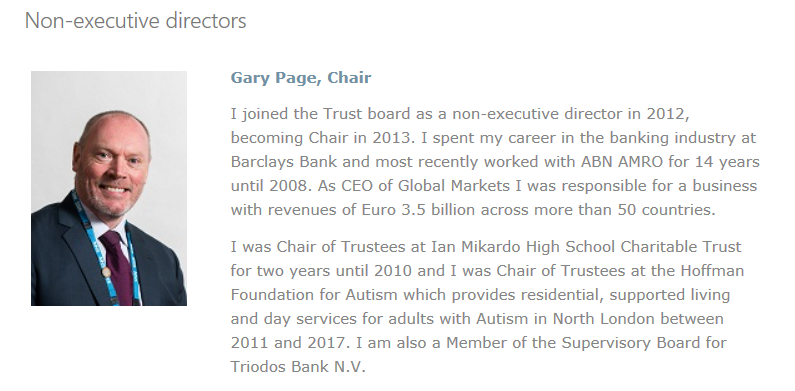 Financial regulators and institutions are rather less tolerant of being economical with the actualité than their NHS counterparts at NHS Improvement and the CCGs. In a Triodos Bank prospectus, where Gary Page is now a member of the Supervisory Board, it confirms Page's last employment was at the top of RBS:

As the economy was driven to the brink and taxpayers had to spend billions rescuing the banks, the bankers got away with their bonuses and riches.
While those who rely on mental health services have paid the price of austerity, sometimes with their lives, and front line staff have been downbanded, subjected to pay freezes or made redundant, Gary Page has ignored repeated warnings, enforced mental health service cuts and enjoyed the proceeds of his banking 'career' in a glamorous stately pile in Suffolk with its fine furnishings and llamas.
Gary Page decided to rebuild his reputation and second career at Norfolk and Suffolk NHS Foundation Trust (NSFT).
We really wish he hadn't.
The taxpayer and mental health services are, even today, still paying the price of bankers' hubris and greed.
Imagine what a difference just today's £2.1 billion would make to mental health services.
There was the money to rescue the banks but not to provide help to those in need.
Read the report on the BBC News website by clicking on the image below: