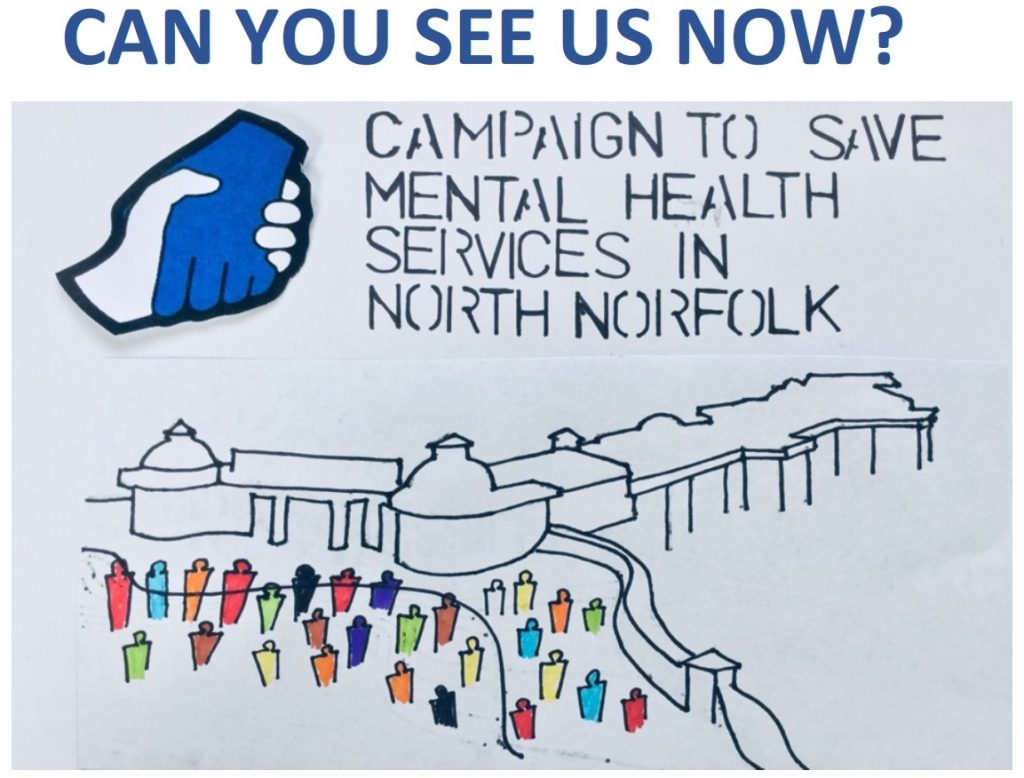 The North Norfolk branch of the campaign is holding a protest on Wednesday 8th May 2019, from noon until 2 p.m. we will be filling Cromer Promenade* with as many people as possible – patients, health care providers, friends, family… Mental health affects us all.
We urge you to attend if you can and to tell as many people as possible about it – we must keep this vital issue in the public eye, as there are signs that local health chiefs are beginning to respond to our demand for improved services and for a walk-in psychiatric centre in the Cromer area.
It's time we stop fighting alone and stand together. To make a point to those who have the power to make change – this really needs all of us. Many of you have already had to fight for help for yourselves or your loved ones and nothing is happening. In fact in many cases, it's just getting worse. If they won't listen to us individually maybe we can make an impact together.
It's time to make this personal, it's time to force them to look at the people and quite frankly, it's time to embarrass them by showing the sheer numbers of people who are suffering, who are being let down and feel they have nowhere to turn. This our chance to make a stand, but it will only work effectively if enough of us get behind it.
If you can't make it on the day you can still be a part of the event by sending a photograph of yourself to the Can you see us now? Facebook and Twitter pages. These photographs will be placed on the pier as a visual representation, along with any words you would like to accompany (words are optional).

There will be a separate area to represent those who were let down by the local services and are unfortunately no longer with us. We welcome any letters and tributes from family members and will provide space for these to be placed alongside their loved ones' photograph. We will ask all participants to observe a minute's silence during this event.
During the event we will be doing some filming/photography both on the ground and above with the use of a drone. We are very grateful to the local professionals who have volunteered their time to help us. We aim to create a short awareness film to highlight the vast numbers of people affected by mental health and call for more services in our area. We hope to release this short film during Mental Health Awareness Week which this year takes place on the 13th- 19th May.
In addition to this we hope to gain involvement from local schools, care homes, charities, etc. who will also be included in our short film alongside the campaign. We have already received good backing and support from organisations in these areas, but we have many more to contact and hope to grow this further.
We have kindly been granted permission from both the Pier and those in charge of the Pier and promenade at North Norfolk District Council to run this campaign, at this location, and express our thanks.
Another important development is the launch of Share As One, a new charity supporting those with mental health needs around Cromer, which now meets from 10 until 4 every Tuesday at the Cromer Town Clubhouse in Mill Road (next to the new GP surgery opposite Cromer Hospital). All welcome to attend.
You can contact the North Norfolk branch of the campaign at either nnmentalhealthcrisis@gmail.com or on 07984284869.