How do we know when enough is enough and it's time for radical and immediate action to be taken at NSFT? When reports hit the media about 140 doctors sending a joint letter to the Trust's chair stating how unsafe things are and there is yet another Prevention of Future Deaths report (that cites falsifying records being encouraged by management) on the same day. What more evidence do the Care Quality Commission, NHSE&!, Department of Health, and Minister for Mental Health need to place NSFT into special administration?
We outline our concerns in an open letter (below). The evidence for our views is in the links to various media reports and in 9 years of our blog posts.
What we need now is for our regions MPs to get behind the ones who are supporting us (Clive Lewis, Duncan Baker, Tom Hunt, Peter Aldous, and Jerome Mayhew) and ask the Minister, Gillian Keegan, to take urgent and drastic action.
Copy of open letter: Please copy and share this and send to your MP and/or anyone in your network in a position of power or influence.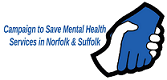 Via email and shared as an 'open letter' via our website and social media accounts.
To: Care Quality Commission (CQC), Norfolk and Waveney Integrated Care Board, NHSE&I, MPs in Norfolk and Suffolk.
Copied to: Chair and CEO of NSFT
10th August 2022
To all those responsible for the monitoring and commissioning of Norfolk and Suffolk NHS Foundation Trust
Yesterday BBC Look East reported on two shocking stories about NSFT that has led us to conclude that enough is enough. The situation in Norfolk and Suffolk for anyone with a mental illness is dangerous. Urgent and immediate action is required to prevent further deaths.
The two most recent issues are:
Some 140 of the Trust's doctors have written to the Chair, Zoe Billingham, regarding how unsafe things are at NSFT. There will be a much larger body of clinical staff who share those concerns. This demonstrates that the situation is deteriorating.
The inquest that concluded yesterday, into the death of Eliot Harris, has resulted in another Prevention of Future Deaths report. The precise details of the Coroner's concerns have not been released yet but she has stated that observation records have been falsified and this practice has been encouraged by management. The Trust are saying they have made changes (they always say that) however the timeline below indicates this is unlikely:

April 2020- Eliot Harris dies in the Northgate Hospital. The staff describe the ward as 'chaotic' and 'bedlam'. There were staff shortages.
End April -July 2020 – NSFT introduces a 'rapid improvement board' (with regular meetings, clear plan, and actions) that reduces because improvements were noted.
September 2020 – The RCN and Unison write to Amy Eagle (then deputy CEO) to detail safety concerns on the ward at Northgate.

February 2021 – Tracy wood dies in Hellesdon Hospital (her PFD cites staff concerns were deleted from the Serious incident report and the ward is 'described as 'busy' and 'chaotic' due to staffing.

November 2021 – the CQC inspectors found the situation at the Northgate to be unsafe. Staff shortages and recording issues cited in their report.

April 2022 – NSFT is rated inadequate and the extent of the inspectors' concerns are revealed.

April to date- we have heard numerous examples of unsafe situations on NSFT's wards which we have passed on to the CQC. Staffing issues remain a difficulty and wards periodically shut to admissions. Rollesby ward is yet to reopen despite a 700k refurb and being closed for over a year.
Since NSFT first entered 'special measures' in 2015, we have raised serious issues with successive CQC inspectorate teams and the wider network. The unsafe situation at NSFT has been allowed to continue for too long. CEOs and Board Chairs have come and gone, people have died, and services are the worst they have ever been. Across two counties, people in mental distress cannot access a service, people in crisis are not safely responded to, carers live in fear of harm coming to their loved ones, and staff are demoralised and exhausted. This cannot be allowed to continue. It is imperative that the CQC exercises its duties and powers to take incisive and urgent actions. We are reiterating our call for the following:
NSFT should be placed in special administration and the governors and senior leadership team disbanded with immediate effect. We recognise there are some people new in post who it would be useful to retain.
The CQC needs to enforce actions on NSFT immediately.
There needs to be scrutiny into the unexpected deaths at NSFT and the mental health related deaths of those unable to access a service (for example, those with serious mental illnesses who are left under the care of GPs). There needs to be an examination of how any actions from Prevention of Future Deaths (PFD) reports are followed up and monitored. We believe that only a Statutory Public Inquiry has a wide and deep enough remit to do this. We recognise that the immediate actions to secure patient safety should have precedence.
Our rationale for these actions is based on the following:
The concerns detailed in these, and other, letters and in various meetings with CQC inspectors over a number of years have not been adequately addressed. In December 2021, we wrote to Craig Howarth (Lead CQC Inspector) and highlighted some key issues (with supporting evidence) that we have repeatedly flagged up. to date, the following concerns raised in that letter are ongoing or unresolved:
Safeguarding – deteriorated.
Waiting list 'management' – deteriorated
Medical & clinical staffing crisis – deteriorated
Leadership – deteriorated
Inpatient Crisis – deteriorated
Service-user and carer participation – unresolved
Learning from deaths – unresolved
On 5th July 2022, we met with some of our region's MPs and the Minister (Gillian Keegan) where we outlined our concerns about NSFT and the numbers of people dying and called for the actions outlined above. Since then we have continued to hear about the continuing unsafe situation. We are also aware that the deaths keep occurring and there are repeated themes. As we write an inquest of another person who has been effectively abandoned by services is in session.
We have no faith whatsoever in the CEO, Stuart Richardson. He describes himself as 'new' when he was COO for 3 years preceeding his appointment as CEO. His attitude does not inspire the confidence of staff, service-users, or the pubic. Indeed, he is largely invisible. Since the appointment of his new deputy he has withdrawn even further and she is fielded to the media to do the apologies and to trot out the platitudes about learning and change.
Our members are committed to campaigning until we see the improvements in services so desperately needed. The culture at NSFT is toxic and too many areas of services are unsafe. This has to change.
We would ask everyone in a position to support our calls, to work together with a single aim: to see safe and effective mental health services in Norfolk and Suffolk.
Yours sincerely,
Committee
of the Campaign to Save Mental Health Services in Norfolk and Suffolk
For reference:
Reports into Eliot Harris inquest:
https://www.edp24.co.uk/news/health/northgate-hospital-staff-encouraged-to-fake-records-9198180
https://www.bbc.co.uk/news/uk-england-norfolk-62466894
Screen shot of letter from doctors.