Campaign has achieved its first result!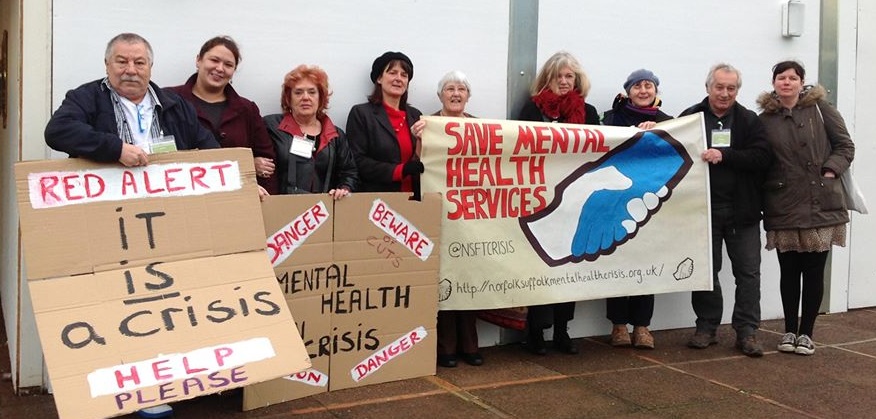 Terry Skyrme, of the Campaign to Save Mental Health Services in Norfolk and Suffolk and a crisis resolution team member at NSFT, said mental health services locally were in "dire crisis" and said 19 patients were placed outside of the two counties two weeks ago and eight of them were in private hospitals.
Mark Taylor, chief officer of the North Norfolk CCG, said: "Although the numbers are small, we want it to end by April. As commissioners we do not want people to go out of area and we want to stop that as soon as possible."
Emma Corlett of Unison and a member of the campaign said: "Whilst this is welcome news, there are still other areas that need urgent action. We agree that most people who need help with their mental health do not want to be in hospital.

We need to make sure that the solution is not to discharge people before it is appropriate to do so or to move people to private beds locally, as this will prove a very expensive and unsustainable way of keeping people closer to home. Recent events have shown that wards should not be closed before it is demonstrated that they are not needed and that bed numbers cannot be safely reduced without investment in community services. The Clozapine Crisis must be addressed. Wards must be safely staffed. How will community teams function safely when between one quarter and one third of staff leave as part of the senseless voluntary redundancy programme?

NSFT needs to urgently address the unacceptably high number of people without an allocated care co-ordinator. NSFT needs to review its suicide prevention strategy, especially the scrapping of specialist teams such as assertive outreach and support for homeless people which national research shows are a necessary, not optional, component of best practice."
That means sufficient beds and properly staffed teams. This campaign will make sure it happens. The campaign will also be checking that fragmentation of services and a postcode lottery does not develop – this deadline applies only to Central Norfolk, not to West Norfolk, the coast or Suffolk.
This first change would never have happened without your support. Thank you.
Click the image below to read more.