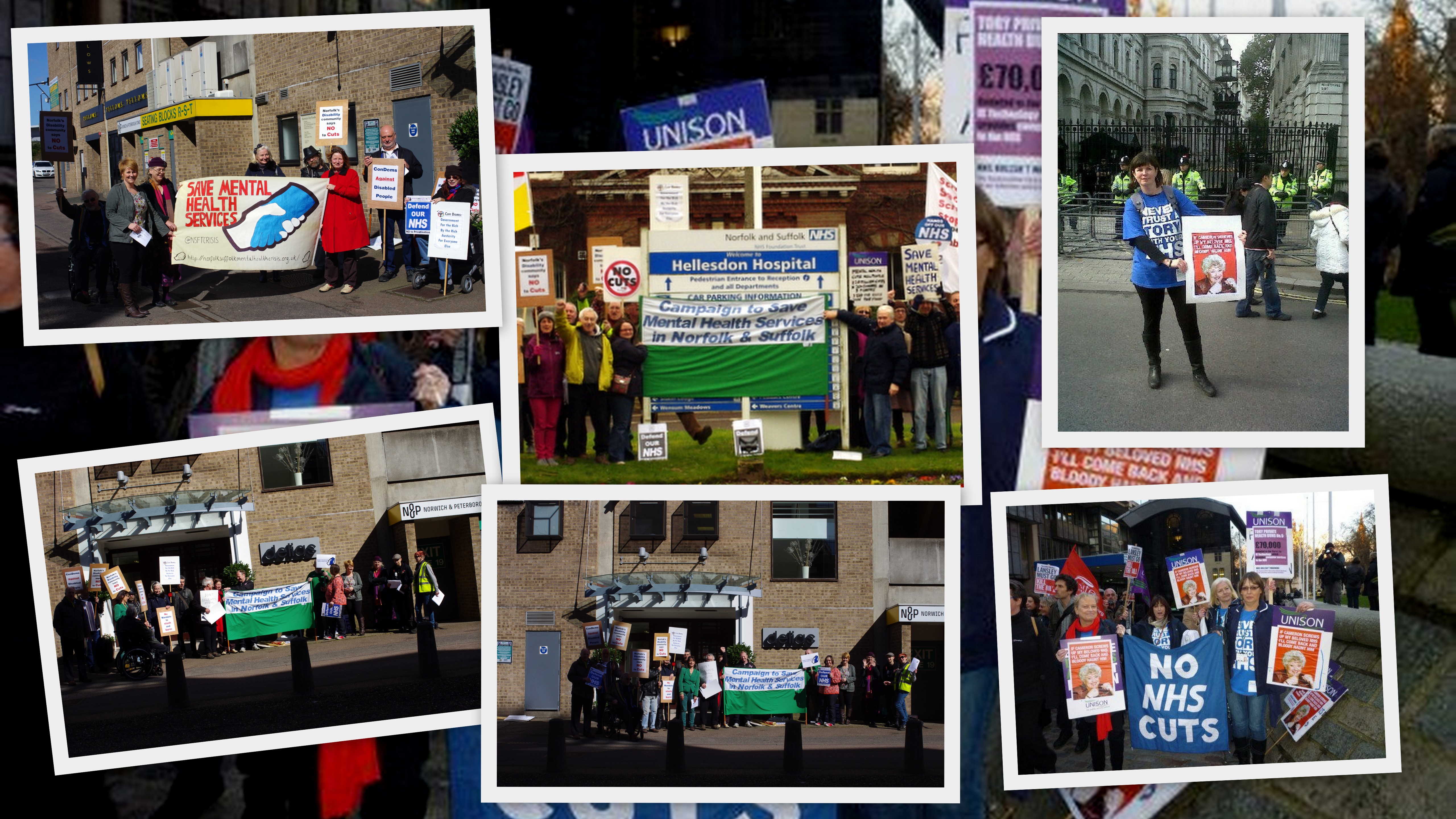 Mental health services across the country are in crisis. The cuts have decimated many services in Suffolk and Norfolk.
Mental health services have been traditionally underfunded, with mental ill health representing 23% of health need, yet receiving only 11% of NHS funding. The 20% cut to all NHS trusts has therefore hit mental health hardest, as they were starting with inadequate funding.
In addition, the merger of Norfolk and Suffolk trusts saw cuts made to wards and 'backroom staff', so where other mental health trusts can reduce non-clinical staff and beds, many of these jobs and wards have already gone at NSFT. Over 80% of the running costs in mental health are staff, so it's staff that have been slashed. Locally we are in the process of losing over 400 nursing, social work, support work, occupational therapy, psychology and medical staff.
This walk will raise awareness of the impact of cuts to our mental health services, show the strength of feeling, and put pressure on our local MPs who have remained largely SILENT on this issue to urgently review funding to mental health services and stop further job losses and bed closures. Any changes should only be made once a safe and high quality service is in place, where everyone who needs a bed or a care co-ordinator has one.
We are fed up of the NSFT Board, the Clinical Commissioning Groups (CCGs) and Care Minister and North Norfolk MP, Norman Lamb, all blaming each other.
Tuesday 1st April
On the 1 April (All Fools' Day) we will walk from the constituency office of Ben Gummer MP in Ipswich to Stowmarket
Those travelling from Norwich, depart 7 a.m. train.
A single train ticket from Norwich to Ipswich is approx £14. Unfortunately group discounted travel does not appear to be possible on peak services. Let us know if you can't afford the travel.
8 a.m. Meet at the office of Ipswich MP, Ben Gummer, 9 Fore Street Ipswich IP4 1JW

8.15 am depart on walk to Stowmarket along the river path
The route is approximately sixteen miles.
We aim to keep a pace of three miles per hour, so including stops, so we will arrive in Stowmarket at approximately 4.30 p.m.
There is an opportunity to 'bail out' at Needham Market (after 11.5 miles / approx 1-1.30 p.m.), from where there are trains back to Ipswich or to Stowmarket for connections to Norwich.
We will end at the Little Wellington pub beside Stowmarket station, before heading home by train ready for day 2!
Wednesday, 2nd April
On Wednesday, we will walk from Diss to Simon Wright MP's office in Norwich South.
Depart Ipswich station on 7.11 a.m. train or Norwich station on 7 a.m. train)
7.30 a.m. depart on walk from Diss railway station to Norwich along Boudicca Way
This is 36 miles, so will be more challenging than day one!
Again we will need to keep up a pace of three miles per hour. This implies we will be out for at least twelve hours which is a long time. Potential pick up points along the way (for anyone who is struggling):
8.4 miles – Pulham Market around 10.30 a.m.
17.5 miles – Tasburgh around 2 p.m.
23 miles – Shotesham around 4 p.m.
29 miles – Caistor St Edmund around 6 p.m.
Arrive Norwich around 8.30 p.m.
We have a volunteer support driver for day two [thanks Jess!!!] with whom who we will co-ordinate.
We will arrange lifts back to the nearest train station.
On 3 April we may extend the walk to Norman Lamb, Care Minister's office in North Walsham but this is unlikely after the tough second day.
We will also use the walk to raise issues of stigma. How can they get away with savaging mental health services? Would they do this to other vital physical health services?
Also, walking and getting out in the natural environment is positive for mental health, so it will be good for us!
It's a long way! Some of us will walk the whole route, but you are welcome to join us for small stretches of the route, however far you can manage.
Spread the word, invite friends, family and anyone who cares about mental health care.
People are welcome to join us for all or part of the walk.
When we can get a signal we will be using Twitter and Facebook to provide updates on our progress (@NSFTCrisis & the campaign Facebook page).
Mobile phone contact number for the day will be 07557 634891.
Disclaimer stuff!
Everyone joining this walk is doing so at their own risk, and voluntarily!  It is an informal walk – a group of people brought together by a passion for mental health, doing something that has a positive impact on health to raise awareness of cuts to our services.
At the risk of sounding patronising – please wear comfortable & suitable footwear and clothing, and bring plenty of water, snacks, packed lunch (and depending on the weather – sunblock!). But remember anything you do bring is extra weight to carry a long way so only bring what you need.
If anyone has a small first aid kit that they don't mind bringing along, please let me know.
If anyone is a qualified first aider, please let me know.
IF YOU WOULD LIKE TO JOIN US BUT CAN'T FOR ANY REASON, SEND US A MESSAGE OF SUPPORT. IF YOU HAVE A MESSAGE YOU WOULD LIKE US TO LEAVE FOR OUR MPs LET US KNOW.
We will write to all the local MPs telling them why we are doing this walk and hand deliver that letter to the MPs if our route takes us to their office.
We are passing through the constituency of the following MPs:
Ben Gummer (Conservative), "Dr" Dan Poulter (Conservative), Richard Bacon (Conservative), Simon Wright (Liberal Democrat).