We have provided evidence to the Norfolk Health Overview and Scrutiny Committee (NHOSC) and hope that a carer and distinguished member of our campaign will be given the opportunity to speak.
NSFT unexpected deaths is the first item on the agenda. Details of the meeting are here. A location map is at the bottom of this article.
This isn't a protest, it is an opportunity for us to help local councillors investigate Norfolk and Suffolk NHS Foundation Trust (NSFT) and for members of the public to see how senior NSFT executives use mealy-mouthed excuses in their attempts to justify and cover-up the huge rise in unexpected deaths at NSFT which is the mental health equivalent of the Mid Staffs scandal.
Here is the shocking graph we supplied to NHOSC: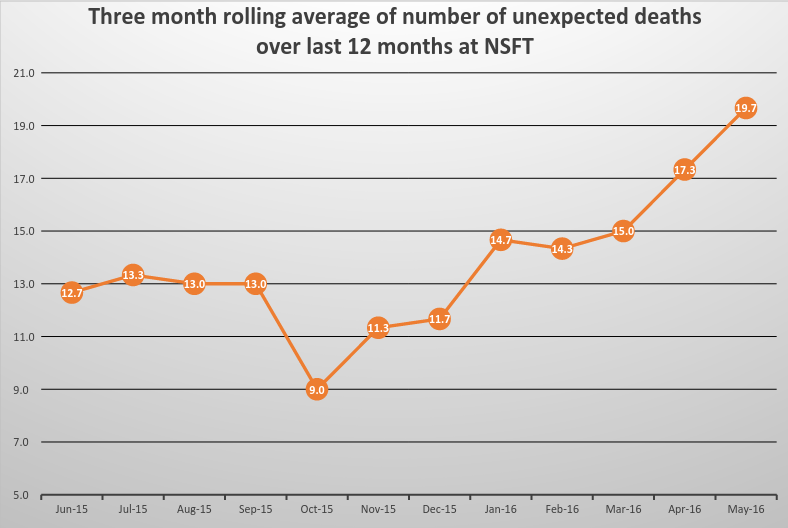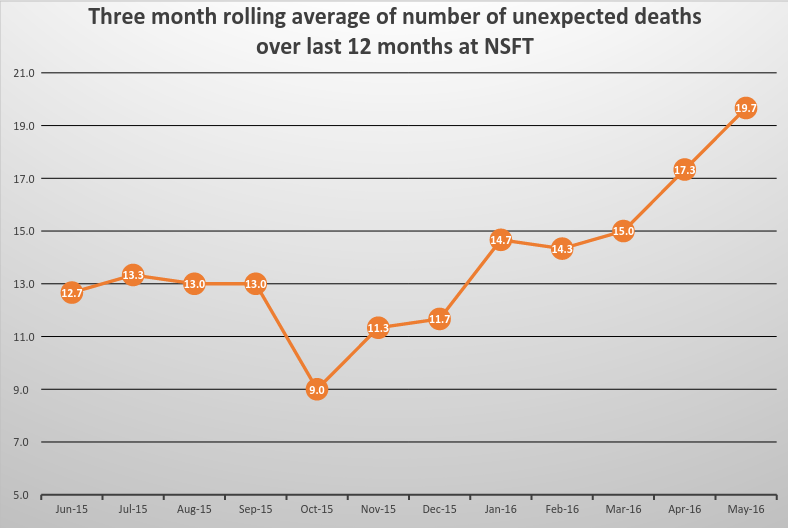 When we first started warning of the dangers of radical redesign the number of unexpected deaths was seven per month. Now, three years later, the number of deaths is about three times higher. That's an additional three funerals every week. Shameful.
You can read the analysis we provided to NHSOC nearly three years ago outlining our concerns about the radical redesign here.
You can read the statement we made to NHSOC the last time we attended here. The response of the Chief Executive of NSFT, Michael Scott, to our reasonable questions for the committee to consider was to shout ill-judged, untrue and slanderous accusations as he lost his temper over our raising his earning more than the Prime Minister of the United Kingdom.
How is NSFT improving when so many more people are dying?
Enough is enough.
Join us on Thursday.
A location map is below: